What the VideoAndria.com blog is about to show you below is not a simple video but the result of a long voluntary study work over the years by our fellow citizen Nicola Montepulciano . The independent historical researcher and ecological conservationist activist from Andria has in fact decided to share his research concerning the valley of Santa Margherita di Andria and the so-called " grotto of roses " with the entire citizenry: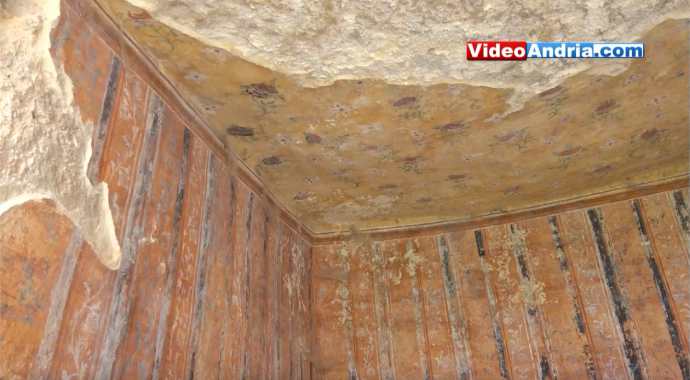 Alongside the equally excellent work of Eng. Riccardo Ruotolo – author of a recent publication also appreciated by Montepulciano in a previous intervention – the researcher analyzed the current situation of the complex, located behind the current sanctuary of the Madonna dei Miracoli – a few steps from the agricultural institute of Andria – not only of naturalistic and landscape interest but also historical and even paleontological (here the fossil remains of the shell Terebratula terebratula were found , from the geological era between the Pliocene (5 million years ago) and the Pleistocene (2.5 million years ago) and today also exhibited atNatural History Museum of London ). Through the video, Montepulciano has thus underlined the historical importance of the Esedra-Ninfeo fresco and, which should be re-evaluated, redeveloped and protected, as well as the nearby Rose Grotto , which still today represents a real mystery of the history of Andria. also to be saved from the questionable conditions in which it unfortunately finds itself today: despite past restoration interventions, humidityand the non-renewal of further restoration interventions have in fact damaged the ancient artifacts. The hope of this autonomous research work, therefore, is also to sensitize everyone, from institutions to individual citizens, so that this peripheral but important area of ​​Andria can continue to exist (and, possibly, to shine) also in the coming years) . For the realization of this documentary, we also thank the support of cav. Salvatore Porro – born in Andria but adopted in Trieste – who on the other side of Italy closely follows the initiatives of our blog. The link to the video:
Regarding the VideoAndria.com blog , we remind you that it is possible to receive all the news in real time from Telegram by registering at the following address > https://t.me/andriabarlettatrani < from Instagram at the following address > instagram.com/andriapuglia < as well as from Facebook by clicking " like " on > Facebook.com/VideoAndriaWebtv < and from Twitter at the following address > twitter.com/videoandria <. Also through Telegram it is possible to send us reports in real time, even with videos and photos. It is also possible to write to us via Whatsapp to send us reports also with photos and videos by clicking here and join the group to receive our links by clicking here . We also remind you that you can follow all of our tweets at https://twitter.com/videoandria . VideoAndria.com updates are also at linkedin.com/company/andrianews and at https://vk.com/andrianews .
#andria #andriesi #casteldelmonte #puglia #altamurgia #murgia #diretta #facebook #twitter #youtube #live #magazine #blog #andrianews #andrianotizie #bat #barletta #trani #barlettanadriatrani #network #culture #chronicle #politics #minervino #corato #google #googlemaps #meteo #email #web #andriaweb #comunediandria # amministrazione #aggiornamenti #vibilità #denuncia #lavoro #residenti #quartiere #sanvalentino #piazzacatuma #oliodiandria – Andria live news live in real time from the city. A #live #city with #events #associations #sports #movida #young people #rich in #emotions